Industrial cleaning service in Vung Tau – always ready to meet all cleaning needs for customers. In order to bring a clean and decent living environment with modern cleaning technology "Technology creates value in life"
The reasons you should choose Vung Tau industrial cleaning service
Vung Tau industrial cleaning service helps you to reduce the burden of looking for workers and create more time for you to focus on business development as well as other jobs.
With a staff of skilled, agile, honestly trained with modern machinery and chemicals imported from European and Asian countries. We will definitely bring a feeling of peace of mind and trust to our customers. Before embarking on the cleaning work, we will send staff to survey the reality, grasp the situation to come up with the most suitable solution and price.
Vung Tau industrial cleaning service: clean your house, your building from A to Z, clean from top to bottom, from the inside out, clean all the interior. Return an inherent beauty and fresh space to your home and building!
Vung Tau industrial cleaning service includes services
Office cleaning services, cleaning of houses, hotels, commercial centers, buildings, schools, warehouses, factories, hospitals, resorts …
Cleaning service after construction, cleaning buildings, buildings, floor cleaning, cleaning of the building, cleaning glass on the outside, cleaning the interior such as washing chairs, carpets, scrubbing floors , vacuuming, polishing bricks, stones …
Maintenance and polishing services of stones such as mable, granite, marble, ship tiles, stone coating, bricks, polishing of concrete floors and eboxi, cement …
Benefits when hiring Vung Tau industrial cleaning service
A clean and clean working and living environment is a basic condition for comprehensive human development, hygiene requirements are always available everywhere from households to offices, supermarkets, hotels, … This is also one of the reasons why cleaning services are growing stronger.
With offices, supermarkets, hotels, … it is necessary to always be hygienic to create a luxurious, polite space, ensure a working environment for employees and make a good impression on customers. Industrial hygiene food is definitely indispensable.
Compared with traditional forms of cleaning, cleaning people will take a lot of time and effort, but if applying Vung Tau industrial sanitation with modern equipment and machinery, specialized chemicals, you will shorten It takes many times to clean and still achieve the highest work efficiency.
Vung Tau Industrial Hygiene helps users save a lot of time and effort, ensure the space is always clean, clean, and prevent the growth of pathogenic bacteria to protect the health of everyone. A comfortable, clean, safe working and living environment for your health is the most necessary condition for you to focus on living activities, taking care of your family and yourself, and developing your career. benefits for yourself and society.
Forms of industrial cleaning services
To meet the increasingly diversified requirements of customers, Vung Tau Industrial Sanitation Company has launched many cleaning service packages for users to choose from such as:
Cleaning by hour
Cleaning recurrent
Cleaning by month
Depending on the sanitation conditions and needs of each unit, it is considered to choose a suitable industrial cleaning service package.
Tools used in glass cleaning Vung Tau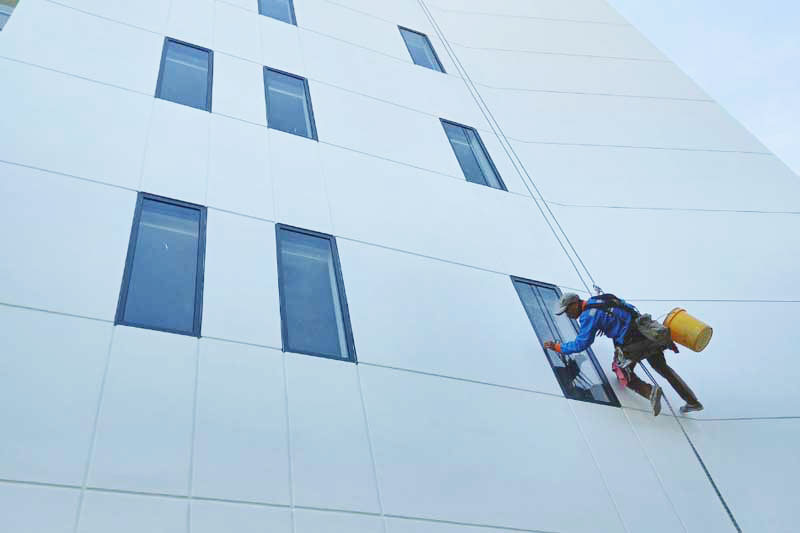 In order to effectively clean the high floor glass, the necessary tools include:
Swing chair, glass cleaning rope make sitting more firmly from above.
Safety jacket protects against sun, dust and reduces damage when there is a risk.
The safety lock makes the process of swinging the ropes secure.
The splicing is used to connect wipes such as a soft cloth to a further position.
Glass wiper, rabbit fur, inhaler, specialized chemicals for cleaning
Glass cleaning process for high-rise buildings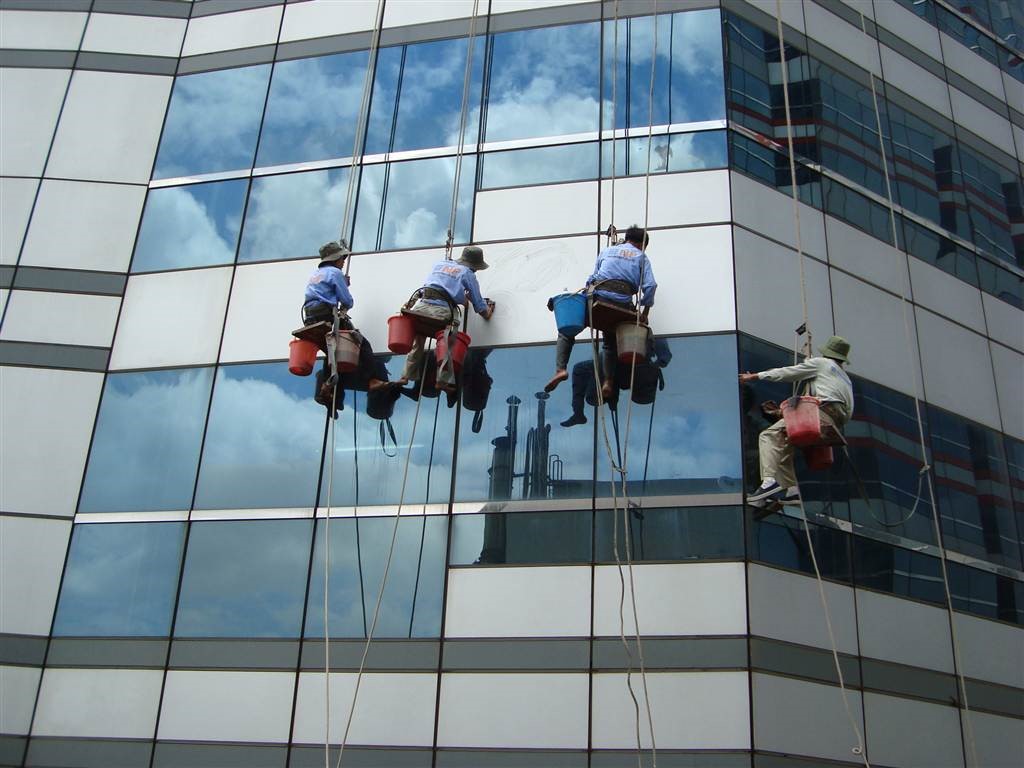 Glass cleaning of a high-rise building needs to be done through 4 steps as follows:
Before proceeding to clean the glass of the upper floor, a careful preparation step is required. This is an important step that affects safety and efficiency of the service. You need to prepare enough tools during the cleaning process.
Prepare chemicals suitable for dirt and glass type as recommended by the manufacturer. Note the most reasonable phase ratio.
Step 2: Handling and cleaning the glass once
Initially treat stubborn stains on glass such as gum, hard stains with the blade. Then proceed to absorb chemicals with a specialized glass wipe to wipe the entire glass; Helps to remove surface dirt.
Step 3: Clean the glass a second time
After using up chemicals to wipe the entire surface of the glass, use a special glass wiper to pull from top to bottom. This step is to completely remove dirt, water, and chemicals from the surface of the glass.
Step 4: Clean the glass 3 times
This is the last step to perfect the high floor cleaning service. Use a soft, dry cloth to wipe the entire glass twice to avoid condensation or dirt remaining to cause blur.
With the above sharing, you must have had more useful information about Vung Tau industrial cleaning service and glass cleaning in Vung Tau. If you find this article a good and useful, don't forget to share it.
CONTACT INFORMATION
Address: E4-6 / 31 Chi Linh Urban Area Ward 10, Vung Tau City, Ba Ria-Vung Tau Province
Phone: 0254 3811 379
Hotline: 0785 887 666
Fax: 0254 3811 369
Mail: admin@namanphat.com